Description
Secure Your ID with Durable Lanyards for Badge Holders – Get Yours Now!
Looking for a reliable, stylish, and convenient way to keep your ID badge safe and secure? Look no further than our premium lanyard for ID badge holders! Made from high-quality Polyester materials and available in a wide range of colors and styles, our lanyards are the perfect choice for anyone who needs quick and easy access to their ID badge at work or school.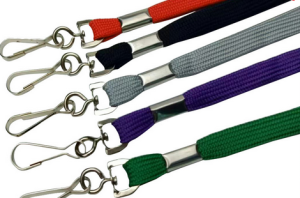 Our lanyard for ID badge holders is designed with safety, convenience, durability, and style in mind. We understand the importance of having a reliable and secure way to keep your identification visible and accessible throughout the day, which is why we've created high-quality lanyar that guarantees a seamless experience for any user.
High-Quality Materials:

We use only the finest materials to create our lanyar, including sturdy clips, strong cords, and durable fabrics. This means that our lanyards are built to last, and can withstand the wear and tear of daily use.We understand that your lanyard needs to withstand the wear and tear of everyday use as well as the demands of high-traffic environments. Our lanyard is made with premium materials that ensure its longevity. They're built to last long-term, come rain, sunshine, sweat, or busy crowds.
2. Stylish Designs:

Our lanyards are available in a wide variety of styles and colors, so you can choose one that matches your personal taste and style. From bright and bold patterns to understated, classic designs, we have something for everyone.Our lanyard comes in an array of colors and designs to match any outfit and personality. Whether you're going for sleek, professional, or quirky, there's a lanyard for you. From bright neon colors to understated designs, our lanyards
offers endless possibilities for individuality and style.
3. Convenience:

With our lanyard, you'll never have to worry about misplacing your ID badge again. Our convenient clips make it easy to attach and detach your badge as needed, so you can access it quickly and easily whenever you need it.
4. Security:

Our lanyards are designed to keep your ID badge safe and secure, so you can focus on your work without worrying about losing your badge. Whether you're in a busy office or a crowded school hallway, our lanyard will keep your badge firmly in place.
5. Durability:

Our lanyard is built to last, so you won't have to worry about replacing them anytime soon. Made from high-quality materials and designed to withstand daily wear and tear, our lanyards are a reliable and cost-effective choice for anyone who needs to keep their ID badge secure.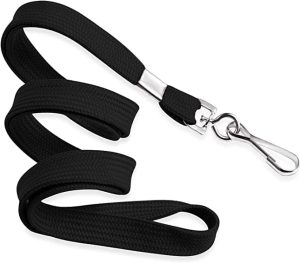 In conclusion, our lanyard for ID badge holders are the perfect solution for any individual or organization looking to prioritize safety, convenience, durability, and style. It's not just another practical accessory but a must-have for any space where identification is key – from schools to hospitals, to government agencies and corporate offices.
Whether you're looking for a stylish lanyard for everyday wear, or a durable and secure lanyard for high-security environments, we have the perfect lanyard for you. So why wait? Browse our selection of lanyard today and find the perfect one for your needs! Finally, we would appreciate it if you could leave a comment or share this post if you found it useful. Thank you!
Warm notice:
Please allow measurement error.
Please check the size carefully before purchasing.
The colors may exist slight difference due to different screens.
The letters of the product are not applied as a trademark.
Click here to know more information. https://www.topwristband.com
https://www.asicentral.com/news/magazines/advantages/august-2022/editor-s-picks-showcase-convenient-lanyards/