Create Your Own Wristband: A Comprehensive Guide to Expressing Your Unique Identity and Spreading Awareness
Create your own wristband to showcase your distinctive style or promote a specific cause! Customized wristbands provide an excellent opportunity to express your individuality or generate awareness for a favorite charity or organization. In this blog post, we will discuss the various benefits of designing your own wristband and offer a complete guide to the process.
Table of Contents
Create Your Own Wristband Benefit
Express Yourself – Wristbands offer a unique, affordable way to showcase your personality, passions, and interests. Whether you want to create a wristband that displays your favorite quote, showcases your artwork, or promotes your favorite cause, the possibilities are endless.
Promote Your Brand or Cause – Custom wristbands are a powerful way to raise awareness and promote a brand or cause. Personalized wristbands are great for nonprofit organizations, schools, and businesses that want to spread their message and engage their audience.
Cost-Effective – Create your own wristbands are an inexpensive way to market a brand or cause. With a large selection of customization options, you can easily design a wristband that fits within your budget while still creating a lasting impact.
Unite Your Community – Wristbands are not just fashion accessories, but they can also ignite a sense of community. They can be used to celebrate a shared interest or bring people together for a common goal. For example, wristbands are commonly worn during charity walks and runs as a way to show unity for a cause.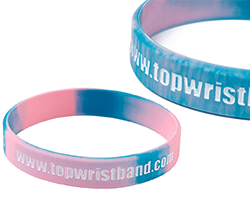 How to Create Your Own Wristband
Choose Your Material – Wristbands are made from various materials, but the most popular are silicone, vinyl, and Tyvek. Silicone wristbands are the most popular because of their durability, comfort, and versatility. Tyvek wristbands are ideal for one-time use events and are also waterproof. Vinyl wristbands are also a great option for events because they are sturdy and can withstand water exposure.
Pick Your Color(s) – Depending on the materials used, a range of colors is available for customized wristbands. Choose colors that are associated with your brand, cause, or event. You can also opt for dual-layer or segmented colors to add a unique touch.
Add Your Design – Next, it's time to add your design to the wristband. This could be your logo, a quote, or a graphic that represents your brand or cause. Most custom wristband manufacturers offer an online design tool or downloadable template to help make the design process straightforward.
Choose a Size – Wristbands come in various sizes. The most common widths of silicone wristbands are ½ inch and 1 inch, but other sizes are also available.
Decide on the Quantity – Custom wristbands are available in small or large quantities. Consider the number of wristbands you'll need before placing your order, as it may affect the price.
Place Your Order – Once you've reviewed your design, colors, and size selection, it's time to place your order. It's important to choose a reputable wristband manufacturer with a track record of delivering quality products on time.
In conclusion, creating your own wristband is an excellent way to express your personal style, promote a cause, or raise awareness for your brand. With easy-to-use customization tools and affordable options, custom wristbands have never been more accessible. Whether you're looking to show off your school spirit or support a local cause, customized wristbands are an effective way to get noticed.
Call to Action: Share your custom wristband designs or experiences in the comments below. Don't forget to follow and share this post to help others create their unique wristbands.
Click here to create your own wristband. https://www.topwristband.com
Reference Website: https://hackaday.com/2022/08/06/pixmob-wristband-protocol-reverse-engineering-groundwork/