Ensuring Your Child's Safety: The Life-Saving Potential of Medical ID Bracelets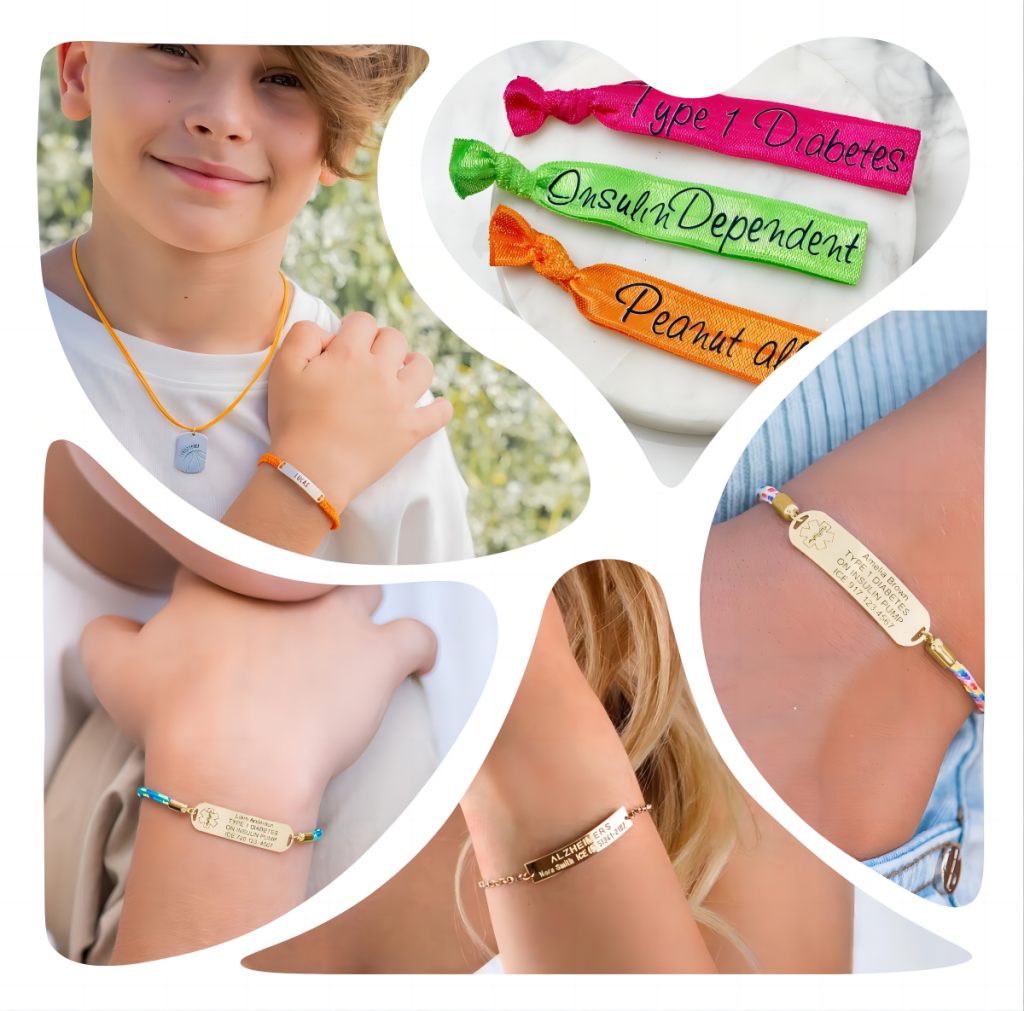 Introduction: The well-being and safety of our children are always top priorities for any parent. When it comes to toddlers with medical conditions or allergies, incorporating a medical ID bracelet into their daily routine becomes essential. This simple accessory can be the key to saving their life during unexpected emergencies while out in public.
As a parent, you naturally strive to keep your child safe and free from harm. However, accidents can happen, and medical emergencies may occur when we least expect them. That's why it's crucial to understand the life-saving potential of Personalized Silicone medical ID bracelets for your kid.
Table of Contents
Why Personalized Silicone Medical ID Bracelets are Important for Kid
Caring for a child with illness or medical conditions can be challenging. While a child's life should be enjoyable, it's important to consider their medical needs on a daily basis. Conditions such as childhood diabetes, seizure disorders, heart complications, or autism can lead to potential complications that must be factored in before leaving the house.
As a parent, how can you ensure your child is safe when you're not present? One way is by using medical alert bracelets for kids. These bracelets offer an added layer of security for your child when in public places by informing other people, including children and adults, about their medical needs.
By wearing a medical alert bracelet, your child's medical information is easily accessible in case of an emergency. Other people can provide prompt and effective first aid, knowing the appropriate treatment without losing valuable time. These medical alert bracelets can also help prevent scenarios such as administering medication that may worsen your child's condition.
How Personalized Silicone Medical ID Bracelets Work for Kid
Jazmin is five years old and is allergic to peanuts. During a game date at a friend's house, she accidentally ate a cookie that contained peanuts.Within minutes, she started feeling nauseous and started throwing up. She also developed hives and began to have difficulty breathing.
Jazmin's friend mother immediately recognized the signs of an allergic reaction and called 911. She also noticed that Jazmin was wearing a kid allergy bracelet medical on her wrist, on which she had read details of her peanut allergy. She notified paramedics, who arrived in mere minutes.
Jazmin's medical ID bracelet also alerted paramedics. They stabilized her condition and immediately notified the hospital of Jazmin's allergies. Before Jazmin's parents arrived at the hospital, the hospital obtained Jazmin's medical information and was able to provide timely and effective treatment to resolve her allergic reaction and enable her to recover quickly.
Jazmin's Allergy Bracelet for Kids Medical enables to instantly identify her allergies, treatment, and follow-up care.
What info do you put on a children's medical id bracelets
Engraving important information on your child's medical ID bracelet can be life-saving in case of an emergency. These basics should be included:
Your child's name
Your name and phone number
A secondary contact name and number
Your child's medical condition(s)
Allergies
Medications
If your child has multiple medical conditions, use medical abbreviations to fit them all on the bracelet. This ensures that the important information is still relevant to medical professionals without taking up too much space. For example:
Autism Spectrum Disorder: ASD
Cerebral Palsy: CP
Allergies: BEES, NUTS, SHELLFISH
Penicillin: PCN
Hydrocortisone: HC
In conclusion, medical ID bracelets for toddlers are a useful tool for keeping your child safe in case of an emergency. It's crucial to take the time to select a bracelet that fits securely, is durable, and accurately provides the essential information needed for medical emergencies. By following the above guidelines, you can ensure that your child is safe and that emergency responders receive critical information needed to prevent further complications.
If you have any other tips or questions on medical ID bracelets for toddlers, please share them in the comments below. Also, don't forget to share this post with other parents who may find it useful.
Ensure your child's safety by ordering customizable kid allergy bracelets from www.topwristband.com now!
Reference Website: https://www.youtube.com/watch?v=7tgLqXLjcu4