Description
Elevate Your Work Attire with Our Chic Beaded Lanyards!
Are you tired of boring and plain lanyards that make you stand out for all the wrong reasons? Introducing our collection of Necklace Boho Lanyards that are not only functional but also fashion-forward! Made with high-quality materials, our beaded lanyard will bring an element of elegance to your work attire, without compromising on the practicality that you need from a lanyard.
When you enter a new work environment, if you want to show your charm, fashionable key lanyards are a great choice. Most people like to change. They either change themselves or see others change. The fashionable silicone bead lanyard can bring you praise from others and remind you to keep youthful vitality. Every colleague of yours has a beautiful teacher lanyard for id badges and keys.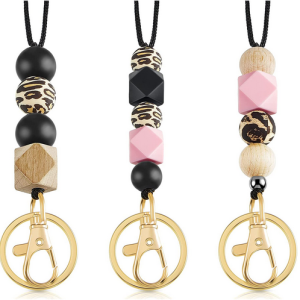 Here are the features of our beaded lanyards that make them the perfect accessory for every working professional:
Stylish Design: Our beaded lanyard feature unique designs that are hand-made by our expert craftsmen. From simple and minimalistic designs to bold and colorful patterns, we have a variety of options that will cater to everyone's style.
Durable Materials: We use only the best quality materials to ensure that our lanyards are long-lasting and able to withstand the everyday wear and tear of your work environment. Our lanyard feature sturdy clasps that can hold all your keys, ID cards, and other valuables securely.This is a high-quality key lanyard. There are many electroplating processes. Our key chain adopts the most advanced technology, which can keep the key chain bright for the longest time. Reject the poor key ring that is easy to fade.
Lightweight and Comfortable: Our cute lanyards are lightweight and won't weigh you down, making them perfect for those long workdays. They are also adjustable to your preferred length, ensuring maximum comfort.
lanyard can be cleaned with water. When you play on the beach or prepare to swim, you don't have to worry about where the keys are.
Elevate Your Work Attire with Our Exquisite Beaded Lanyards
Add a touch of elegance to your work attire with our exquisite beaded lanyard. With our Necklace Boho Lanyard , not only will you look good, but you will also have peace of mind knowing that your valuables are secure. Don't settle for a plain and boring lanyard, get yours today and elevate your style to the next level!
Our beaded lanyards are versatile, making them perfect for all types of work environments ranging from medical professionals, educators, corporate employees, or anyone looking to add a touch of elegance to their daily work routine. It is an ideal choice for anyone mad about accessories, particularly lanyard.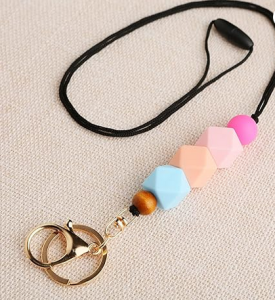 We offer a variety of stylish designs that cater to different tastes and preferences. Our range includes elegant pearls, chic crystals, colorful and intricate beads, just to name a few. You'll be sure to find an option that suits your style and matches your look.
In conclusion, if you're looking for a practical and stylish way to keep your valuables close and elevate your fashion game, our beaded lanyards are the perfect choice. Quality, comfort, and style all in one product. Choose from our gorgeous designs, wear your lanyard with pride, and enjoy the benefits of adding a touch of sophistication to your work attire. Order your beaded lanyard today and experience the perfect blend of fashion and practicality.
Click here to know more information. https://www.topwristband.com