Description
Elevate Your Work Fashion Game with a Stunning Beaded Lanyard: The Perfect Accessory to Show Off Your Unique Style!
Are you tired of wearing the same boring lanyard to work every day? Look no further than this cute lanyard for Women, the perfect way to elevate your work fashion game with one stylish accessory!
With its unique and eye-catching design, this cute lanyard is sure to turn heads in the office. Made with high-quality, durable materials, you can rest assured that it won't break or wear out over time – giving you a long-lasting way to show off your personal style.
So why choose a beaded lanyard over a traditional one? Here are just a few of the benefits:
1. Style: With a variety of colors, beads, and designs to choose from, you can find  beaded lanyards that perfectly match your personal style and adds a pop of color to any outfit.
2. Versatility: A cute lanyard isn't just for the office – it's a versatile accessory that can be worn to concerts, sporting events, or any other occasion where you need to keep your ID or key card on hand.
3. Comfort: Unlike traditional lanyards made of rough, scratchy materials, a beaded lanyard is soft and comfortable to wear for hours on end.
But don't just take our word for it – here are a few reviews from satisfied customers:
"I absolutely love this cute lanyard! It's stylish, comfortable, and adds a fun pop of color to my work wardrobe. I've received so many compliments on it!"
"I bought this lanyard for a friend's birthday gift, and she was absolutely thrilled with it. The quality is amazing and the beads are so pretty – it's definitely a step up from the boring lanyard she used to wear!"
"I wear this lanyard every day at work and constantly get compliments on it. It's such a simple, easy way to add a little something extra to my outfits, and I feel so much more confident with it on."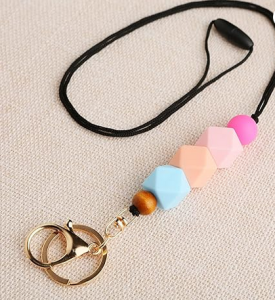 This stylish accessory is the perfect blend of fashion and function. Made with high-quality, durable beading, this lanyard is sure to catch the eye of your coworkers. But it's not just about looking good – our beaded lanyard is also practical, with a strong clasp that ensures your ID or key card stays secure throughout the workday.
As a working woman, it's important to make a great first impression. From a confident handshake to a professional outfit, every little detail counts. That's where this cute lanyard comes in. With its unique and eye-catching design, this beaded lanyard is sure to turn heads in the office and give you the confidence you need to succeed.
So why wait? Elevate your work fashion game today with our Beaded Lanyard for Women and bonus Baseball Wristbands. Order now and be the envy of your coworkers!
Warm notice:
Please allow measurement error.
Please check the size carefully before purchasing.
The colors may exist slight difference due to different screens.
The letters of the product are not applied as a trademark.
Click here to know more information. https://www.topwristband.com
https://www.asicentral.com/news/web-exclusive/september-2023/get-in-on-the-custom-beaded-friendship-bracelet-trend/