Description
Cruise Lanyards: The Must-Have Accessory for Effortless Convenience on Your Next Voyage
Are you an avid cruiser who wants to ensure that your trip is as smooth and hassle-free as possible? Look no further than Cruise Lanyard, the ultimate accessory for any cruise-goer. Our lanyards are made of high-quality materials and come in a variety of colors and designs to suit your style and preferences.
Introducing the ultimate accessory for any cruiser: Cruise Lanyard. These high-quality lanyard is designed to keep your cruise ship keycard, ID, and any other essentials you need readily accessible at all times. Made of durable materials and available in a variety of colors and designs, Cruise Lanyards are the perfect way to stay organized and travel in style.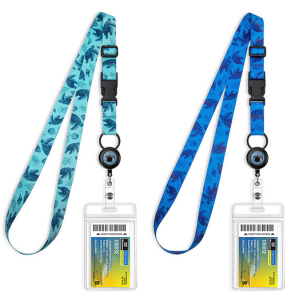 1. Quick and Easy Access: With your Cruise Lanyard around your neck, you'll have quick and easy access to your cruise ship keycard, ID, and any other essentials you need to carry with you on board.
2. Stay Organized:

No more fumbling through your pockets or bag to find your keycard or ID. With your lanyard, everything is in one convenient, easy-to-reach place.
3. Hands-Free Convenience:

Whether you're lounging by the pool or exploring the ship, your Cruise Lanyard allows you to keep your essentials close at hand while keeping your hands free to enjoy your surroundings.
4. Stylish and Comfortable:

Our lanyard is not only functional, but also stylish and comfortable to wear. Choose from a wide variety of colors and designs to suit your personal style and make a fashion statement on board.
5. Great Value: At Cruise Lanyard, we are committed to providing great value to our customers. Our lanyards are affordably priced and can be reused on future cruises, making them a smart investment for any cruise-goer.
Stay organized and stylish with cruise lanyard
Our lanyards are designed with both functionality and style in mind. They are comfortable to wear, even for extended periods, and the quick-release buckle ensures that you can easily access your keycard or ID when you need it. Plus, with our affordable pricing, Cruise Lanyards are a great value that can be reused on future cruises.
With Cruise Lanyard, you'll never again have to worry about misplaced keycards or fumbling through your bags to find your ID. Simply wear your lanyard around your neck and enjoy hands-free convenience while you explore the ship or relax by the pool. And with so many styles and colors to choose from, you can showcase your personal style while making your life easier on board.
Don't let the hassle of keeping track of your keycard and ID detract from your cruise experience. Invest in a high-quality Cruise Lanyard today and enjoy all the convenience and peace of mind that comes with it. Order yours now and get ready for the ultimate cruising experience.
Have you tried Cruise Lanyards on your last cruise? Share your experience with us in the comments below and be sure to hit the like button if you found this post helpful!
Warm notice:
Please allow measurement error.
Please check the size carefully before purchasing.
The colors may exist slight difference due to different screens.
The letters of the product are not applied as a trademark.
Click here to know more information. https://www.topwristband.com