Description
Dominate the Field with Baseball Wristbands: Elevate Your Game Performance!
Sport wristbands are an essential part of the modern athlete's uniform. These wristbands act as an absorbent barrier, helping to keep sweat away from your hands and your eyes, preventing slipping and visibility issues. While sweatbands have been around for decades, modern sport wristbands feature advanced materials and design features that significantly improve comfort, support, and performance.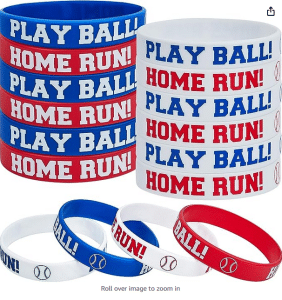 Looking to enhance your game on the baseball field? Look no further than stylish and functional baseball wristbands! These small, but mighty accessories offer a range of benefits to players of all levels.
Comfortable and Durable: Made with high-quality materials such as cotton, polyester, or nylon, these wristbands are designed for comfort and long-lasting durability. They offer a snug, yet breathable fit that won't slip or lose elasticity.
Moisture Control: As every player knows, sweating is an all-too-regular occurrence on the field. Baseball wristbands are designed to wick away moisture and sweat, making it easier to maintain a comfortable grip and reducing the risk of slipping.
Added Support: With a stretchy and adjustable design, baseball wristbands offer additional support to your wrist and forearm, providing stability and reducing your risk of injury.
Diverse Styles and Colors: With a range of colors and designs available, baseball wristbands offer a great way to show off your style and personality on the field. Match them to your team colors or choose a design that showcases your own unique flair.
Enhanced Performance: Some specialized baseball wristbands are designed to boost your performance. Whether they incorporate motivational messages, magnets, or other technologies, these wristbands offer a competitive edge that can help take your game to the next level.
Unmatched Grip and Support: Our innovative design features an ergonomic shape and adjustable elastic band that provides an optimal fit and all-around wrist and forearm support. Say goodbye to slips, slides, and unexpected movements and dominate the field with confidence.
Our high-quality Baseball Wristbands are designed to maximize your comfort and performance on the field. Made from soft, breathable fabric, our wristbands wick away sweat, keeping you cool and dry during even the most intense games and practices. With their non-slip design, these wristbands provide secure grip, helping you to make the perfect catch every time.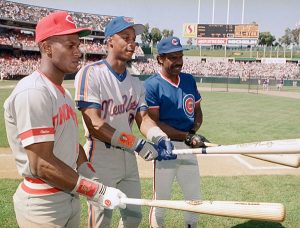 wristbands also offer the opportunity to show off team spirit and style. Many wristbands come in a variety of colors and designs, so you can easily match them to your team's colors or personal preferences. This makes them a fun and customizable addition to any game-day outfit.
Kind tips

:
When choosing wristbands, it's important to look for high-quality materials that offer both durability and comfort. Good options include moisture-wicking fabrics like polyester, soft and stretchy cotton blends, or performance-focused materials like spandex. Additionally, consider options with adjustable closures to ensure a snug fit throughout your game.
In conclusion, baseball wristbands provide a simple yet effective tool to take your game to the next level. They offer both practical benefits such as improved grip and injury prevention, as well as a fun opportunity to show off your unique style. When shopping for wristbands, prioritize materials that offer both comfort and durability. With wristbands in your arsenal, you'll be ready to hit a home run every time you step up to the plate.
Don't let sweat, discomfort, or lack of support hold you back on the field. Get your hands on our baseball wristbands today and experience the ultimate tool for improved performance. Order now and discover the game-changing difference our wristbands will make in your playing experience!
Warm notice:
Please allow measurement error.
Please check the size carefully before purchasing.
The colors may exist slight difference due to different screens.
The letters of the product are not applied as a trademark
Click here to know more information. https://www.topwristband.com