Description
Boost Your Inspiration with Motivational Wristbands
Introducing our motivational wristbands – the perfect accessory to motivate, inspire and uplift you throughout the day. Made from high-quality silicone, these wristbands are comfortable, durable and long-lasting. Our Motivational Wristbands are available in a range of colors, each featuring powerful, uplifting messages to encourage you no matter what challenges you face. Our Motivational Wristbands come in a range of colors, each featuring powerful, uplifting messages to help you feel empowered and energized throughout your day.These wristbands make a great gift for yourself, or for friends and family who can benefit from a boost of motivation and inspiration.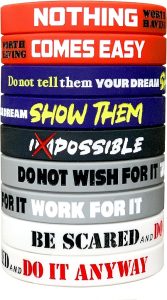 Here are some of the standout features and benefits of our Motivational Wristbands:
---
1. Inspirational messages – Each wristband features a motivational message to help you stay focused and inspired. Choose from a range of powerful phrases like "Believe in yourself", "Never give up", and "You are enough".
2. Durable design – Made from high-quality silicone, our Motivational Wristbands are built to last. They are strong, waterproof, and resistant to wear and tear, making them the perfect accessory for an active lifestyle.
3. Comfortable fit – Our wristbands are designed to fit most wrist sizes comfortably. They are easy to put on and take off, and won't pinch or irritate your skin during wear.
4. Shareable – Motivational Wristbands make a great gift for friends, family, or coworkers who could use a little extra inspiration in their lives. You can share your motivation and spread positivity by gifting these wristbands to the people you care about.
Our Motivational Wristbands are a great way to stay motivated and inspired throughout your day. Whether you're hitting the gym, going for a run, or simply facing a challenging day at work, these wristbands will help you stay focused and energized. So why wait? Order your Motivational Wristbands today and start feeling empowered from the moment you put them on!
Common Messages
---
Personal Mantras
Every athlete seems to have a mantra that inspires them and motivates them to continue to work hard at their craft. It is for this reason that motivational bracelets are popular amongst this group. We often receive orders for custom silicone wristbands that have text that reads No Pain, No Gain or Anything Is Possible, amongst others. We give athletes and non-athletes alike the tools to create rubber bracelets that inspire them.
Faith
Many people of faith derive motivation from their beliefs. For this reason, some of the most popular motivational wristbands are ones with Bible verses printed on the bands. Our customers can choose any passage or quote that is inspiring to them and always have it around their wrists. This allows the person wearing it to both remain motivated and share their beliefs with other people.
Positivity
Some people don't have a personal mantra or religious text that inspires them. In fact, some people are simply motivated by general positivity. A positive message, such as I Am Enough or Believe In Yourself, is enough to inspire some people.
Warm notice:
Please allow measurement error.
Please check the size carefully before purchasing.
The colors may exist slight difference due to different screens.
The letters of the product are not applied as a trademark
Click here to know more information. https://www.topwristband.com