Description
Empowering Breast Cancer Warriors with Inspirational Wristbands!
Breast cancer is a serious battle, one that requires immense strength and courage. The journey can be a difficult one, both physically and mentally, which is why it's important to have a supportive community by your side.At Breast Cancer Wristbands, we aim to do just that – provide a physical and emotional anchor for those fighting breast cancer.
Our women's health wristbands serve as a reminder of the unique journey that each warrior fights. They are a constant symbol of hope and strength that reminds you that you are not alone in this journey.
Our wristbands come in an array of colors, each color representing a different aspect of women's health awareness. We have pink wristbands for general women's health awareness, while our teal wristbands represent ovarian cancer awareness – a cancer that is closely linked to breast cancer.
Key features of our breast cancer wristbands:
1. Powerful Engravings: Our wristbands are engraved with messages such as "Fight Like a Girl" and "No One Fights Alone". These messages are more than just words; they are mantras that can empower you to fight cancer with everything you've got.
2. High-Quality Silicone: Our wristbands are made of high-quality silicone that is non-toxic and safe for everyday wear. They are durable and made to last, so you can wear them every day as a reminder of your fighting spirit.
3. Wide Array of Colors: Our wristbands come in a variety of colors, each one representing a unique aspect of  cancer awareness. From pink to teal, there is a color that suits everyone's preference.
4. Perfect for Fundraising: Our wristbands are a popular choice for fundraising events as they offer a great way to raise money forwomen's health research and awareness.
5. One Size Fits All: Our wristbands are designed to fit all wrist sizes, so everyone can wear them regardless of their wrist size.
The message on these women's health wristbands is one of inspiration and hope. They're designed to inspire and motivate those who are fighting this disease, and to remind them that they're not alone.The messages on the wristbands vary, with some featuring inspiring words and phrases, while others may feature the women's health awareness symbol. They're a simple, yet powerful tool in the fight against breast cancer and everything that it entails.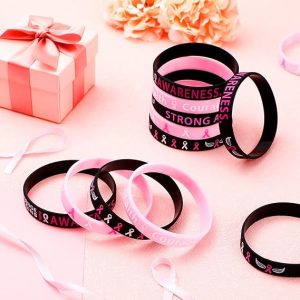 Breast cancer wristbands are affordable and accessible. You can order them in bulk and distribute them to friends and family members, or you can buy one for yourself and wear it with pride. They're perfect for fundraising events, races, and walks, as they not only raise money for a great cause, but they also help to promote awareness and support.They make great gifts for those who are currently fighting breast cancer, or for those who have survived the disease.
In conclusion, our breast cancer wristbands are more than just a fashion accessory; they are a symbol of strength, hope, and inspiration for those fighting cancer. Wearing one of our wristbands is a way to show solidarity with the community and empower yourself to fight this battle with everything you've got.Join us in the fight against cancer today by sporting one of our inspiring wristbands.
Order your breast cancer wristband now and remember, you are a warrior and you are not alone in this fight!
Warm notice:
Please allow measurement error.
Please check the size carefully before purchasing.
The colors may exist slight difference due to different screens.
The letters of the product are not applied as a trademark.
Click here to know more information. https://www.topwristband.com
https://www.countryliving.com/life/inspirational-stories/a45082685/breast-cancer-awareness-quotes/