"Are you or a loved one looking for an effective and stylish way to stay safe? Look no further than custom medical alert dog tags."When it comes to medical emergencies, time can be of the essence. That's why it's crucial to have identification that can provide pertinent health information about you or a loved one. Medical dog tags can be life-saving in emergency situations, where every second counts. Custom dog tags are particularly useful in these cases, as they can be designed to cater to specific health conditions. In this blog post, we will delve further into medical dog tags, their benefits, and why custom dog tags are a must-have.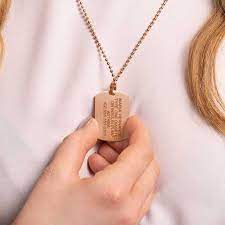 Custom Medical Dog Tags: Keeping You Safe in Style
When it comes to staying safe and prepared, having the right tools is essential. Custom medical alert dog tags offer a unique combination of style and practicality, and are a must-have for anyone who wants to be ready for whatever comes their way.
1. Personalized to Your Needs: No two people are alike, which is why custom medical dog tags are so valuable. These tags can be personalized to include any important medical information, emergency contact information, or other critical details that you need to carry with you at all times. By having these details easily accessible on your dog tag, you can be sure that first responders and medical professionals will have the information they need to help you in an emergency.
2. Durable and Built to Last: Medical alert dog tags need to be tough enough to withstand daily use, as well as any emergency situations that may arise. Custom medical alert dog tags are constructed from high-quality materials that are designed to withstand wear and tear, so you can be confident that your tag will be there when you need it most.
3. Stylish and Fashionable: Just because your medical alert dog tag is practical doesn't mean it can't be stylish! With custom options available, you can choose from a range of designs, colors, and fonts to create a tag that truly reflects your personality.
4. Peace of Mind: Carrying a medical alert dog tag provides peace of mind knowing that you are prepared for any situation. Whether you have a pre-existing medical condition, take specific medications, or just want to take extra precautions, having a custom medical alert dog tag on your person ensures that you are always ready for the unexpected.
Stay Prepared and Stylish with Custom Medical Alert Dog Tags – Your Key to Peace of Mind
In conclusion, custom medical alert dog tags are a smart and practical accessory that offers peace of mind in any situation. From providing critical medical information to providing a stylish accessory, they are an ideal choice for anyone looking to stay prepared and looking great at the same time. Medical emergencies can happen anytime, anywhere, to anyone. That's why wearing medical alert dog tags is essential, especially for individuals with medical conditions or allergies.
medical dog tags are a must-have for anyone with underlying medical conditions and can be a life-saving option in emergency situations. Custom dog tags offer endless options for personalization while still providing critical medical information quickly and easily. By investing in a medical dog tag, you are investing in your personal safety and peace of mind.
So why wait? Order your own custom medical alert dog tag today and be ready for anything that comes your way.
Click here to know more information. https://www.topwristband.com/customize-printed-wristband-4.html
Reference Website:https://www.americanmedical-id.com/extra/medical-id-dogtags.html