Love food? Who doesn't? If you're a foodie, then you will absolutely love food festivals. They're the perfect opportunity to indulge in new flavors and cuisines, learn more about the culinary arts, and sample dishes from vendors across the region. To truly make the most of any food festival, it pays to be prepared, and that's where wristbands come in.
The Greek Food Festival in Birmingham takes place every year at the end of May or the beginning of June and lasts for two days. The festival is held at Bradley Park, which is conveniently located near the city center and has plenty of parking spots.
At the festival, visitors can enjoy authentic Greek cuisine, including traditional Greek salads, grilled meat skewers, water cakes, and more. The festival also serves traditional Greek drinks such as Ouzo, a type of liquor that is an important part of Greek culture.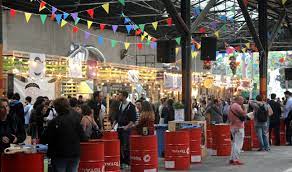 Table of Contents
Wristbands are a must-have for any food festival-goer. Not only do they grant you access to the event itself, but they can also provide a host of additional benefits, such as discounts, perks, and even the ability to skip certain lines. Here's everything you need to know about food festival barcelets:
What Are Food Festival Barcelets?
Food festival barcelets are wearable tickets that give you entry to the festival. They come in varying shapes, colors, and sizes, and some even feature fun designs or messages. In addition to providing admission, some wristbands also offer pre-loaded cash values or access to VIP areas.
Where Can You Get Food Festival Wristbands?
Barcelets are typically available for purchase online or at the event itself. Online purchases allow you to skip onsite lines, get discounts or deals, and secure your spot in advance. Alternatively, if you're struggling to find the specific wristband for your chosen festival, reach out to organizers for guidance.
What Are the Benefits of Food Festival Wristbands?
There are many benefits of having a food festival wristband, including:
Quick Entry: Barcelets allow you to move through lines quickly and efficiently, ensuring that you have more time for tasting and exploring.
Reducing Waste: Some festivals opt for using reusable wristbands, which are more sustainable, eco-friendly, and cost-effective than traditional paper tickets.
Added Rewards: Certain barcelets offer special perks, including discounts at stores or food booths, access to designated areas, and other exciting bonuses.
Record Keeping: Some barcelets come with a pre-loaded cash value, which can be used to purchase food, drinks, or souvenirs throughout the festival site.
How Do You Adorn Food Festival Wristbands?
Food festival Barcelets should be worn at all times. Typically, they are threaded onto your wrist using a plastic or metal clasp, which ensures your wristband remains secure, comfortable, and visible. If you're given multiple wristbands, remember to wear them separately, so you can switch them out as required.
What Are the Different Types of Food Festival Barcelets?
Food festival barcelets come in various types, including:
Basic Admission Wristbands: These offer only entry to the festival, access to vendors, and entertainment.
Cashless Wristbands: These offer pre-loaded cash values, which can be used to purchase food and drinks without worrying about cash or credit. These are also great because once the value is used up, you can simply reload them.
VIP Wristbands: These offer specialized access at the festival, like VIP seating areas, shorter lines, and the opportunity to meet chefs or cookbook authors.
Season Pass Wristbands: These offer unrestricted access throughout the entire festival season, saving you money and eliminating the need to buy a ticket every time.
No matter which of these wristbands you choose, they all offer their own advantages for food festival-goers, making them an essential accessory.
Are Food Festival Wristbands Safe?
In general, food festival Barcelets are safe to use, provided that you take care to obtain a wristband from a reputable provider or vendor. Avoid vendors that seem suspicious or offer wristbands that appear too good to be true. In addition, it's best to keep your wristband clean and dry to avoid any skin irritation and prevent the colors from fading.
Are you excited to try out food festival Barcelets for your next big culinary adventure? Not only can they make the festival experience more enjoyable, but they're also an easy and affordable way to streamline the event's process. Regardless of which wristband you choose, one thing is certain: with wristbands, you're sure to make the most of your food festival experience.
If you found this post helpful, share it with your friends, and let us know what kind of Barcelets you prefer in the comments below!
Click here to customize your child's wristband. https://www.topwristband.c
Reference Website:https://www.wbrc.com/2023/10/04/50th-annual-greek-food-festival-begins-thursday/