Table of Contents
Button pins have been around for generations, and they are still an incredibly popular and stylish accessory today. These small but mighty pins can be used to add a touch of personality and flair to any outfit, and they can also be a fun and interactive way to express your interests, beliefs, and passions.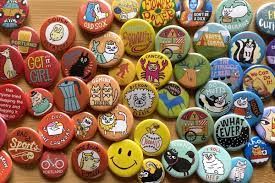 If you're looking to transform your style game and add some unique and eye-catching accessories to your collection, you might want to consider custom button pins. Here are six reasons why:
Customization
One of the biggest advantages of custom button pins is the ability to customize them to your liking. You can choose from a variety of sizes, shapes, colors, and designs, and you can even add your own artwork or slogans. This means you can create pins that are truly unique and reflective of your personal style and interests.
Collectability
Button pins are also great for collectors. You can create a collection of pins that represent your favorite bands, movies, TV shows, sports teams, or hobbies. You can also trade pins with other collectors to expand your collection and connect with like-minded individuals.
Affordability
Button pins are one of the most affordable accessories out there, making them accessible to everyone. You can purchase them in bulk or create your own designs to cut down on costs even further. This means that you can experiment with different styles and designs without breaking the bank.
Versatility
Button pins are incredibly versatile accessories that can be worn in a variety of ways. You can pin them on jackets, backpacks, hats, or even shoes. They can also be used as tie pins, purse charms, or even as part of your home decor.
Self-expression
One of the most significant benefits of button pins is the ability to express yourself. You can show your support for a cause, share a message, or simply wear pins that reflect your personality. Button pins can be a fun and creative way to express your thoughts and emotions without saying a word.
Trendiness
Finally, button pins are trendy! They've been spotted on runways, street style blogs, and Instagram feeds, making them a must-have accessory for fashion lovers. By wearing unique and stylish button pins, you can elevate your look and stand out from the crowd.
Now that you know why custom button pins are a great addition to your fashion accessories collection, let's take a look at six unique designs that you might want to consider:
Animal Pins
Animal pins are a great way to add a touch of cuteness to your outfits. Whether you're a cat or dog person, you can find a variety of animal pins to choose from. Consider adding a pin that features your favorite animal, or go for a quirky design that will make people smile.
Pop Culture Pins
If you're a fan of movies, TV shows, or books, you'll love pop culture pins. You can find pins that feature popular characters, quotes, or logos from your favorite franchises. Pop culture pins are also a great conversation starter, as they can help you connect with others who share your interests.
Music Button Pins
Music lovers can also show off their favorite bands and artists by wearing music pins. Whether you're a fan of classic rock, hip-hop, or pop music, you can find pins that represent your favorite genre or era. You can even create your own pins featuring your band's artwork or logo.
Inspirational Button Pins
If you want to add some positivity to your outfits, consider wearing inspirational pins. These pins can feature motivational quotes, affirmations, or symbols that represent hope and strength. By wearing inspirational pins, you can uplift yourself and others around you.
Food Button Pins
Foodies will love wearing food pins that feature their favorite snacks or meals. You can find pins that feature pizza, tacos, sushi, and more. Food pins are a fun way to show off your culinary preferences and add some humor to your style.
Artistic Pins
Finally, if you appreciate art and design, you might want to consider wearing artistic pins. These pins can feature abstract designs, paintings, or sketches. You can even create your own pins featuring your original artwork. By wearing artistic pins, you can showcase your creativity and add a touch of sophistication to your outfits.

In conclusion, custom button pins are a versatile, trendy, and affordable accessory that can transform your style game. By choosing unique designs that reflect your personality and interests, you can show off your individuality and connect with others who share your passions. So, start exploring the world of button pins, and see where your creativity takes you!
The following is a brief introduction of our company, please click for details: https://www.topwristband.com/about-wristbands.html
Reference Website:https://www.babyboomers.com/article/4-popular-reasons-to-use-custom-button-badges/64948a0f85915a0001fb984f